Power is nothing without control – Pirelli used that line in some of their ads back in the late 80's or early 90's.  SSubtle Take, a 1996 Impala we built with a 2016 Camaro LT1 engine, makes some serious power and we added some serious control.
Step 1 for control: coil over suspension.  Step 2: giant brakes.  Here we cover step 1.  We installed Speedtech Performance's coil over conversion front and rear, featuring Speedtech's proprietary control arms and mounting brackets along with Viking Performance double adjustable shocks.
Once installed, a performance alignment is a must and we highly recommend corner balancing at the same time.  Starting with the alignment, Speedtech's front upper control arms provide more caster – we're running 8.5 degrees – which in turn gives you greater negative camber gain while turning.  This gives you a solid contact patch on your outside front tire when cornering and it makes a big difference.  Corner balancing is covered in our coil over tech article, and in sum, with a scale under each tire, minute adjustments are made in shock height in order to balance the car, helping it to fling side to side on the autocross like a sports car should.
And we know how to make these cars handle.  We've tried all the setups out there and recently tried out QA1's new handling kit for Hot Rod Magazine.
If you're looking to get your car handling – whether you're turning your own wrenches or having someone do the work – please start the conversation here.
Front Suspension
Installing the front suspension is pretty straight forward.  Assembling the coil overs is sure to elicit grins and they're much easier to install as compared to the stock suspension springs.  We installed spindles that were already modified for the big brakes and powder coated.
We did custom fabrication on the lower arms – the owner, for good reason, wanted to retain his vintage Herb Adams anti-sway bar and the front bar uses solid endlinks with ball joint ends.  The factory setup uses a long bolt that goes through the lower control arm.  Speedtech ups the game with a double shear mount that works with their endlinks, but the Herb Adams ones have a totally different mount.  So we sliced off the Speedtech endlink brackets and re-used the Herb Adams blocks that were bolted to the factory arms.
Rear Suspension
Installing the rear suspension is also straight forward.  Speedtech's fabricated lower shock mount (one per side) gets bolted to the axle housing, and then you drill holes in the axle housing and add more bolts.  This provides a solid foundation to attach each coil over assembly, while ensuring proper geometry.  The brackets provide for three different height settings, so in combination with about 2-1/2″ of adjustment at the coil over you get quite a range over which you can dial in your height to your taste.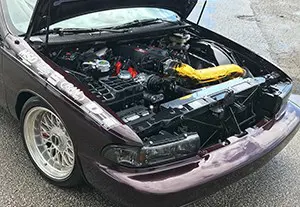 https://threepedals.com/wp-content/uploads/2018/09/Three_Pedals_1996_Impala_GenV_LT1_retrofit_cover.jpg
207
300
Josh Korsower
https://threepedals.com/wp-content/uploads/2017/09/three-pedals-logo-2017.svg
Josh Korsower
2018-09-02 08:18:03
2018-09-03 10:00:01
Retrofitting the Gen V LT1 Engine
Interesting links
Here are some interesting links for you! Enjoy your stay :)