Shaken
&

Stirred is Not For Sale
We decided to keep our beloved wagon, Shaken & Stirred.
We spared no expense – or effort – in building this wagon.  We've driven it across the country and we've raced it extensively – once at the track, race preparation consists of airing up the tires and charging the GoPro battery.  Yet it's docile enough to be a daily driver.  If a customer hired us to build this wagon again, the total cost would exceed $75,000.  All work except hood and engine paint and alignment was performed in our shop.  We have extensive content documenting the build – photos and videos.
Where else can you find an 8-seat woody wagon that's been shown at the SEMA Show, raced in the Optima Search for the Ultimate Street Car Invitational, and thrown sparks off shredded tires while winning a burnout contest?
We've documented the build of this wagon pretty thoroughly on our website, and here is a recap.
The short version
Cammed LS3 poking through a functional shaker hood scoop, Tremec T56 Magnum 6 speed manual transmission, double-adjustable coilover suspension, Corvette disc brakes all around, and custom Speedtech gauges in a custom dash panel with a tach right in the middle.  We put down 440 – 450 horsepower at the wheels over several dyno sessions, which works out to approx. 500 – 525 HP at the flywheel.  Oh, and seating for 8.
The long version
94,997 miles on the wagon before our modifications; 14,500 miles on the wagon after our modifications; and 0 miles on the fresh engine, transmission, shocks, and brakes.
Engine
2010 Camaro LS3
Port fuel injection with a Chevrolet intake manifold, drive by wire throttle body, and Mast throttle body adapter
Mast Motorsports SS cam and springs, Mast ECU, and Mast oil pan
Polished crankshaft journals
Clevite coated main bearings and connecting rod bearings and ARP connecting rod bolts
Comp Cams chromoly pushrods and trunnion rocker upgrade
BeCool aluminum radiator with twin electric fans
Kooks stainless steel 1-7/8″ long tube headers with 3″ collectors
Dual 3″ stainless steel exhaust into Vibrant mufflers with turn downs in front of the rear axle
Transmission and Rear Gears
Tremec T56 Magnum 6 speed manual transmission with 2.66:1 1st gear and 0.63:1 6th gear
Setrab transmission fluid pump and external cooler, thermostatically controlled with manual override
Quick Time steel bellhousing, SFI 6.1 certified which basically means bomb-proof
Exedy GT04XD twin disc semi-metallic clutch with billet pressure plate cover; buyer can select a milder clutch
Stock 8.5″ 10 bolt rear axle with 4.10:1 gears, ARP carrier studs, Moser high strength axle shafts, 3″ ARP studs
Inland Empire Driveline 3.5″ OD aluminum driveshaft, high speed balanced
Suspension
Global West front upper and lower control arms with Del-a-lum bushings
Metco rear lower and adjustable upper control arms with polyurethane bushings
Viking double adjustable (compression and rebound) coilovers with Crusader valving at each corner
Brakes
Corvette C6 front brakes, twin piston aluminum calipers, 13″ rotors; calipers upgraded with Doug Rippie stainless steel pistons
Corvette C6 rear brakes, single piston aluminum calipers, 13″ rotors; functioning parking brake
We interrupt this sale listing with some of our favorite photos of the wagon in action
Wheels and Tires
CCW Classic 3 piece wheels, 19″x10″ F, 19″x11″ R, Continental ExtremeContact Sport tires, 285/35/19 F, 325/30/19 R
Interior
Original interior is in remarkably great shape overall – seat covers, dash, and door panels are good
Of course, our billet aluminum pedal bracket is installed, giving you perfect clutch and brake pedal spacing and feel
Custom Speedtech gauges in a custom insert we fabricated – with the tachometer right in the middle – that fits behind the stock plastic lens
Nardi wood and aluminum steering wheel
Air conditioning is ice cold
Custom stainless steel shift lever topped with engraved billet aluminum Three Pedals shift knob
Lokar leather shift boot fastened to carpet for a clean and finished look
Modern stereo head unit with classic looks – Retrosound Newport 1.5 DIN Direct Fit Media Receiver, with USB input
Infinity Kappa speakers all around, with 4″ x 6″ plate speakers in front mounted behind factory covers, and 6-1/2″ component rear speakers mounted in rear pillars behind factory covers
Alpine 75 watt x 4 MRV-F300 4-channel amplifier
Boyo rearview mirror with integrated backup camera display
New ACC carpet with Lloyd Mats embroidered Pontiac floormats
New headliner
3rd row seating is in place, and folds flat creating a 4′ x 7′ floor
Body
New hood installed, with shaker scoop cutout and reinforcements epoxied in place; original hood is included in the sale
Shaker scoop is a '77 Trans Am reproduction piece; unit seals perfectly
Dual action tailgate works great
Walley World sticker on back window
Damage
The wagon is in great shape overall but there are 2 dented areas – detailed photos are shown below:
Driver side front fender, at the bottom
Driver side rear wheel well is damaged when we lost a wheel on the road; this also dented the frame but we don't think there is any safety concern with this damage
The 2 areas with damage are detailed in the photos below.
Additional Shaken & Stirred posts can be accessed below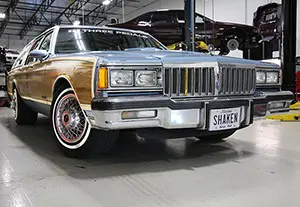 https://threepedals.com/wp-content/uploads/2019/06/Three_Pedals_Shaken_and_Stirred_sale_cover.jpg
207
300
Josh Korsower
https://threepedals.com/wp-content/uploads/2017/09/three-pedals-logo-2017.svg
Josh Korsower
2019-07-15 11:22:37
2021-07-12 19:19:11
Shaken & Stirred is Not For Sale
https://threepedals.com/wp-content/uploads/2019/05/Shaken_trolls_370Z_OUSCI_cover.png
207
300
Josh Korsower
https://threepedals.com/wp-content/uploads/2017/09/three-pedals-logo-2017.svg
Josh Korsower
2019-07-14 12:46:52
2019-07-14 21:51:47
Shaken Trolls 370Z at OUSCI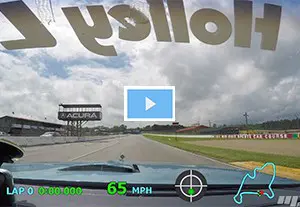 https://threepedals.com/wp-content/uploads/2018/06/ISSCA-mid-ohio-cover-small.jpg
207
300
Josh Korsower
https://threepedals.com/wp-content/uploads/2017/09/three-pedals-logo-2017.svg
Josh Korsower
2019-05-27 04:36:52
2019-05-27 19:08:57
Shaken Hits Mid Ohio Sports Car Course
https://threepedals.com/wp-content/uploads/2018/05/Three_Pedals_Shaken_and_Stirred_Speedhut_cov-1.jpg
206
300
Josh Korsower
https://threepedals.com/wp-content/uploads/2017/09/three-pedals-logo-2017.svg
Josh Korsower
2018-06-13 11:36:52
2019-07-19 15:15:08
Speedhut Custom Gauges
https://threepedals.com/wp-content/uploads/2018/05/Three_Pedals_Shaken_and_Stirred_Holley_cov.jpg
207
300
Josh Korsower
https://threepedals.com/wp-content/uploads/2017/09/three-pedals-logo-2017.svg
Josh Korsower
2018-05-31 06:24:52
2019-07-19 15:15:40
Holley Performance
https://threepedals.com/wp-content/uploads/2018/05/Three_Pedals_Shaken_and_Stirred_GM-EFI_cov.jpg
207
300
Josh Korsower
https://threepedals.com/wp-content/uploads/2017/09/three-pedals-logo-2017.svg
Josh Korsower
2018-05-31 06:24:52
2019-07-19 15:16:23
GM EFI Magazine
Interesting links
Here are some interesting links for you! Enjoy your stay :)